Key Advantages of
HotEdge® 

Roof Ice Melt Systems:
---
1.

Requires At Least 30% or less

Commercial Grade Self-Regulating Heat Trace Cable Than All Other Options Available On The Market Today.
---
2.

 

Patented Design Heats More Roof Surface with Less Commercial Grade Self-Regulating Heat Trace Cable; Heater Cables Strategically Separated To Achieve Maximum Surface Melt.
---
3.

 

HotEdge manufactures the first and only roof edge panel system to pass the rigors of an Underwriters Laboratories (UL) testing process and be awarded the Certificate of Approval for Safety & Compliance.
---
4. 

Patented Three-Sided Angulated Raceway Makes it Simple for Inspection, Maintenance, and Replacement
---
5.

 

All

HotEdge

Roof Ice Melt Systems 

Allow for

Partially

Exposed Heat Trace Cable to Comply with Article 426 of National Electrical Code (NEC)
---
6.

 

HotEdge

Roof Ice Melt Systems

Keep Performing @ 11,300 Foot Elevation Where all Others Failed. Reference Available Upon Request.
---
7. 2011 award for best product of the year: HotEdge Rail® at the I.R.E ( International Roofing Expo)
---
TESTIMONIALS:
---
Attention Customers :  False

UL

Claims!         
 To fact check whether another company you are investigating is communicating honestly with you,
---

 

HotEdge®

Introduction Video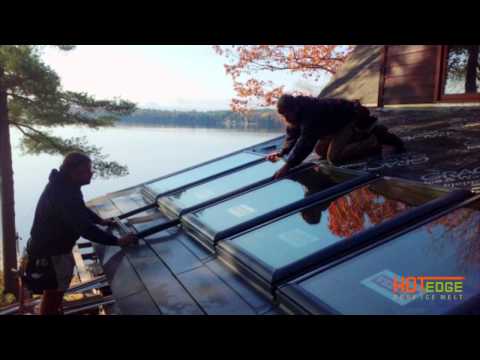 Ice News
If you own a HotEdge Roof Ice Melt System, you are an educated consumer who...
More about us
HotEdge, Inc. is the industry leader in providing innovative, patented roof ice melt solutions that prevent destructive icicles and ice dams from forming on the roofs of commercial and residential properties. Our energy efficient, low cost products hold the only certificate for a UL listing.
In 2008, HotEdge recognized the need for a low cost, simple and effective roof ice melt system to help prevent property damage. Existing concepts were either prohibitively expensive to install and operate or were unable to heat a roof edge on a continuous basis, i.e. heat cable laid on a roof edge in a zig-zap pattern.
Our ice melt systems have and continue to experience rapid expansion in all medium and high snow load regions across the United States and Canada.